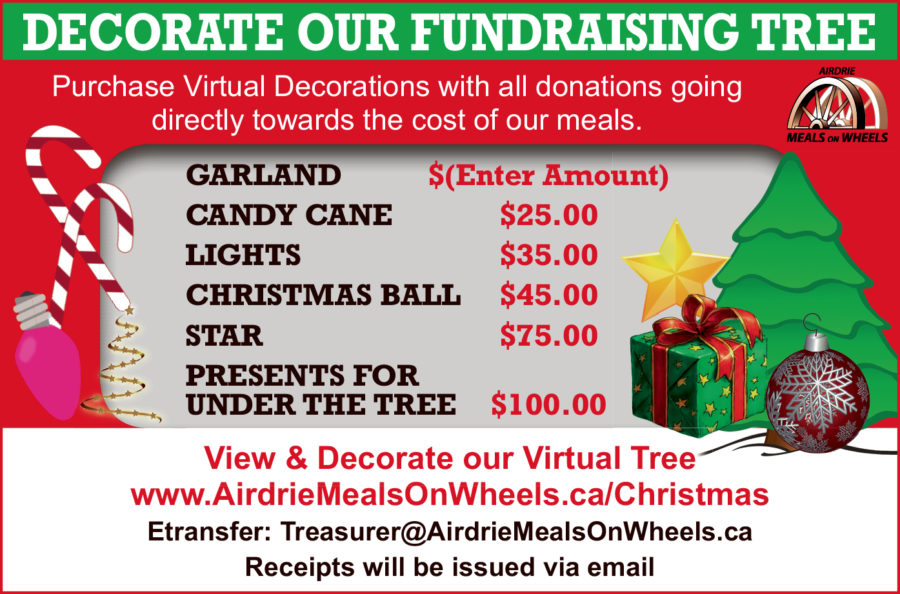 Christmas Fundraising Campaign
We invite you to help us decorate our virtual Christmas Tree.
There are no set limits for your donations, only suggestions.
We are very grateful for all donations we receive. This money goes directly to the food costs to keep meals affordable for clients in Airdrie, who for whatever reason require assistance with meals.
On behalf of the Clients of Airdrie Meals on Wheels we say Thank You in advance for your kindness.
Decorate our Christmas Fundraising Tree
Choose from the following decorations to "decorate our tree" and help support Airdrie Meals on Wheels:
CANDY CANES

A delicious Rock Candy that brings smiles to all ages when received. Your donation of a virtual candy cane to our Fundraising Tree will keep our clients smiling.

$

25.00
Tax receipts will be issued for donations greater than $20.00
– Thank You For Your Support –