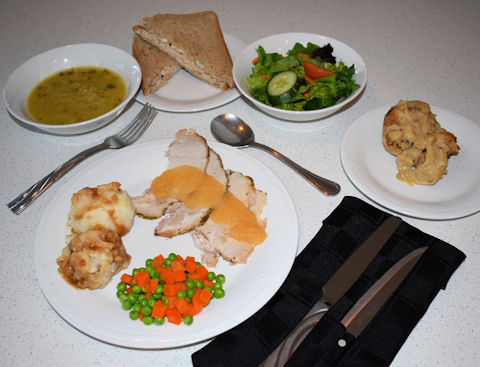 Feeling hungry? Does this meal look appetizing?
Roast pork with gravy, mashed potatoes and vegetables might be a typical dinner in most of our homes, but for Airdrie residents who are unable to cook a meal for themselves it is only a memory.
How about some lentil soup and a tuna sandwich for lunch? If you can't get out for groceries any longer, even a sandwich can be beyond reach.
That's where Airdrie Meals on Wheels can help. The meal pictured here is one our clients received recently, and includes entree, soup, sandwich, tossed salad, and even dessert of yummy bread pudding. It is typical of the meals prepared and delivered to our clients.
If you or a loved one are in need of a little help, whether temporarily or permanently, there's no need to dream of such a meal any longer.
Our nutritious meals are prepared in a licensed and inspected kitchen.
The cost of the meals is subsidized by the generous donations of Airdrie residents, making them affordable to all those in need.
---
What We Provide:
Nutritious, affordable meals that include an entree, soup, salad, sandwich and dessert
Weekday lunch hour delivery service by volunteer drivers
Flexibility: Clients can receive meals as many days of the week as needed. A full meal or partial meal may be requested (for instance, just a sandwich and soup, or just an entree).
Meals for weekends and holidays when ordered in advance
Accommodation for diabetic and other dietary restrictions
Vegetarian meals available
Who Is Eligible:
We strive to accommodate everyone who requests the service, including but not limited to:
Persons recovering from illness or injury
Persons with disabilities
Senior citizens
Those whose caregiver is temporarily away
Persons who have special needs
---
Weekly Menu Sample
Airdrie Meals on Wheels strives to provide a variety of meals for clients. Each full meal includes an entree, sandwich, soup, salad and dessert.
Below is an actual menu from our kitchen for one week.
| | Main Course | Vegetable | Side | Sandwich | Soup | Salad | Dessert |
| --- | --- | --- | --- | --- | --- | --- | --- |
| Monday | chicken a la king | green and waxed beans | biscuit | ham & cheddar sandwich | chicken noodle soup | tossed salad | cherry cha cha |
| Tuesday | beef sausage | peas | rice | turkey sandwich | tomato soup | Caesar salad | assorted desserts |
| Wednesday | mushroom meatballs | cauliflower | scalloped potatoes | bologna sandwich | beef and barley soup | spinach salad | canned apricots |
| Thursday | roast pork | peas and carrots | mashed potatoes | tuna sandwich | lentil soup | tossed salad | bread pudding |
| Friday | turkey tetrazzini | mixed vegetables | dinner roll | salami sandwich | mushroom soup | Waldorf salad | apple pie |
| | | | | | | | |